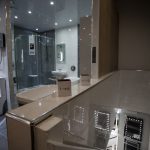 Get fully fitted bathrooms in Atherton to give your home that extra touch of glamour. At Bathroom Design & Supply, we specialise in design, supply and installation of a comprehensive range of designs to suit your unique needs, preferences and budget. We believe that top-quality bathrooms don't have to be luxurious and unaffordable. Whether you're getting a new construction done, or you're renovating/refurbishing or extending your old bathroom suite, we can help you with it. Our talented design team can handle the complete project from design to supply of materials and final installation. We begin with a detailed survey that takes into account the available space, kind of construction, your requirements and the amount of time and labour involved. Based on this, we can provide a detailed quotation. Once we have your approval, work can begin.
The biggest advantage of fitted bathrooms is that you get a consistent theme across all features in the bathroom. In Atherton, fully fitted bathrooms can follow a variety of styles. If you like the traditional, classical style, you can pick an era like the  Victorian or Edwardian. Each of these had their own unique aesthetic components which can be given a modern twist in terms of convenience, technology and materials. Classical bathrooms were spacious, with roll-top or claw-foot baths, made of porcelain or metal. The toilet area had an external cistern with a chain flush. Classically formed taps and accessories completed the look. We can reproduce all these if needed, with modern touches like mixers, and showers. If you prefer the contemporary look, you can choose bold colours, cleaner lines, sleek and minimalistic fittings.
Another important aspect of fully fitted bathrooms in Atherton is the decision to have en suite or family baths. For guests many people prefer to have a functional cloakroom closer to the living or dining areas. If you have senior citizens in the house, ensure that you provide the right safety features for them. These would include non-skid floors, grab rails, specially designed tubs and shower areas. For more information about our fully fitted bathrooms, contact us today. Child-friendly bathrooms can be designed keeping the changing and growing needs of kids.