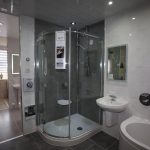 Consider a shower installation in Westhoughton if you are planning on upgrading and renovating your bathroom. This is a good way to lower your water usage and if the bathroom is heated it is a quick and warm way to cleanse yourself. Running a bath can take a long time depending on the pressure of the water and when you are in a hurry to get to work or to go out at night a shower is a better option. Our showers have water and energy saving options.  Different shower heads can reduce the amount of water used while still providing a satisfying shower. The floor of a shower is rougher than a bath and the glass is tempered making it much safer than a bath. We can sometimes alter a half bath to a full bathroom with the installation of a shower.
We can redesign your bathroom to allow you more space. In Westhoughton, shower installation will take up less space than a bath.  Our highly qualified plumbers and tilers will fit a new shower in your existing bathroom if there is space. We have many shower designs to choose from.  A shower without a step can allow elderly people to bathe unattended.  We can also fit handles onto the walls of the shower to aid stability.  Some showers have a bench in them allowing people to sit down and shower. This could allow some independence for a family member who has limited mobility or is disabled.
We specialise in installing all types of bathroom furniture including shower installation in Westhoughton. Contact Bathroom Design and Supply today or visit our showroom and see the huge range of bathroom fixtures we supply. We have over 35 years of experience in bathroom fixtures, design and fitting and have an in-depth knowledge of how to design a practical and beautiful bathroom. We take great pride in our workmanship and provide value for money through a comprehensive service which includes not only the design and layout of the bathroom but also the manufacture and supply of the cabinets. Our services extend to electrically heated flooring in the bathroom, tiling to suit the new colour scheme and bathroom cabinets and accessories.