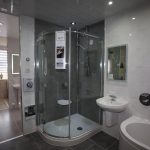 Install a new shower in Blackrod and turbo-charge your mornings! At Bathroom Design & Supply, we stock a comprehensive range of fittings, tiles, wet rooms and showers to suit every style. You are sure to find exactly what you need, and in alignment with your budget and the available space. We supply and install top quality showers and shower rooms based on your specifications. You have your choice of hinged shower enclosures, in-fold or walk-in showers, and more. With more than half a century's experience in this sector, we are proud to be one of the region's leading firms in this sector. Our fully customisable solutions are ideal whether you're undertaking a new build, refurbishing or repairing.
Our team has the skills, experience, qualifications and training to complete every project to perfection. In Blackrod, new shower installation is certainly not the job for the average DIY enthusiast. It may seem like a simple task but creating your dream bathroom could turn out to be a nightmare if you don't have the necessary tools and experience. You could end up with broken tiles, leaks, or even damage the shower equipment itself. This can lead to bigger problems and more expenses. Our team is familiar with a wide variety of shower solutions, from prefab systems to luxury pieces. No matter how big or large, we bring the same dedication, talent and passion to it. Our attention to detail, focus on affordable and efficient solutions and friendly approach is what our reputation is based on.
When you hire us to install a new shower in Blackrod, you can be sure that we help you to select the latest, most efficient, affordable and best looking products. Another factor that works in our favour is that we keep up with the latest trends, innovations, products and technology. Get in touch with Bathroom Design & Supply for more information on our services and products. Over the years, we have developed an in-depth knowledge of the industry and we're glad to share it with our clients. All our employees are background checked, so you can rest assured that you and your family remain safe.