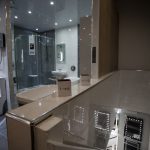 Someday an estate agent will tell you to update your bathroom suite in Atherton if you expect to sell your home at top price. We have a better idea. Update your bathroom now for your own enjoyment. If and when you do sell your home the bathroom upgrade will still be an asset. Meanwhile, you get to have what you want. Once we know your preferences for your floor plan we can present you with an efficient and workable design. There are many decisions to be made but we make that as easy as possible for you. Maybe you like the idea of a wet room. It's a very good choice, especially for smaller spaces. A wet room is so modern and efficient. If you prefer a traditional design and there's room for cabinets and double sink vanities, enclosed shower and maybe a bidet, we can do all that for you.
We make your decisions easier because we supply all the fittings and fixtures and will carry out the complete installation. For those in Atherton, bathroom suite design and fitting by our team comes with 35 years of experience. We know and promote the products that offer the greatest value and style for your money. You won't need to wander for hours through bath fixture stores wondering if the products are as good as they look or as their price would indicate. When you see what you like from our extensive products, we'll be able to tell you why it's a good choice. There's a lot from which to choose in all styles.
For your custom bathroom suite in Atherton, you can count on us for the highest quality workmanship. We are able to control our costs, and therefore your costs, by sourcing good quality fixtures direct from the wholesaler and using our own skilled workers for all phases of the installation. We fit all the cabinetry, install the electrical and plumbing and complete all the tile work. We are your one stop for a bathroom refurbishment; complete or partial. Contact us if you are in the market for a custom bathroom or if you just want to get an idea of cost. Tell us your budget and we'll work within it. We think you will be pleased with our products and our workmanship.